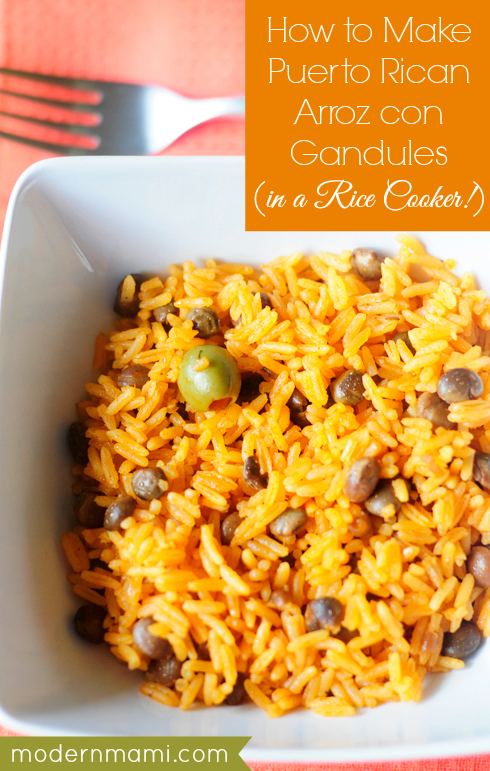 I am very fond of rice. Fond doesn't even cover it. I'm actually quite in love with rice. You ask me what the ultimate comfort food is and I'll quickly tell you rice and beans. I grew up eating rice on a daily basis, practically. There were days my mami made vegetables (of the root kind) instead of rice. Or days she made spaghetti (though, even then she served it with white rice on the side, but that's another story). But, overall, most days out of my childhood were spent eating rice for dinner. I'm sure if you ask most Puerto Ricans, they too will tell you that they have a special place in their hearts for arroz y habichuelas.
Rice can be served in so many different ways. You can have white rice alone, white rice with a variety of beans (served on top of the rice, not on the side), and yellow rice. Yellow rice is when you really get a variety since you can add just about anything into yellow rice: beans, vegetables, meat, etc. But, perhaps the most well-known Puerto Rican rice is arroz con gandules (rice with pigeon peas). Traditionally served for Noche Buena, arroz con gandules is also a big hit for a family get-together or just for your everyday weeknight dinner. (Side note: In Trinidad, where my husband is from, they call it Rice and Peas. I'm lucky he loves it as much as I do.)
Being a busy working mom with not as much time to dedicate to cooking, I'm known for cooking Puerto Rican food in non-traditional ways and using shortcuts. See my post on planning a weekly dinner menu – using shortcuts. My number one favorite appliance in my house is my rice cooker. I must kiss the person who invented a rice cooker. It cooks my Puerto Rican rice just the same as my mom's iron pot – well almost the same – unfortunately, it doesn't make any pegao. But, otherwise, it tastes the same and requires a lot less maintenance to cook. Read on to see my recipe for arroz con gandules using a rice cooker!
How to Make Arroz con Gandules in a Rice Cooker (Puerto Rican Rice with Pigeon Peas Recipe)
Ingredients:
Rice (about 1 handful per person) – Note that this is plain, non-instant white rice.
Cooking Oil
Sazón
Tomato Sauce
Tomato Paste
Sofrito or Recaito
Olives (use the Spanish salad olives with pimientos)
1 can of Gandules (Pigeon Peas)*
Salt, to taste
Adobo, to taste
To see pictures and links for these ingredients, see 5 Must-Have Ingredients for Cooking Puerto Rican Food
Directions:
Put rice into your rice cooker's pot and clean the rice. If you're not familiar with how to clean rice, it just means that you run it under water a couple of times and pick out the dark grains, pebbles, etc. To do this:

Fill pot with water and press rice with your hands.
Pick out anything that's not a rice grain.
Pour out water, being careful not to lose any of the rice.
Repeat a few times until water pours out clear.

Add water to the pot until the water sits just above the rice. (I've heard that normally it is a 2-1 ratio: for every cup of rice, you add 2 cups of water. I've never cooked it this way, as I don't measure when I cook.)
Add a serving-spoon's worth of cooking oil. Not a tablespoon, but the bigger spoon one uses to stir a pot.
Add 1 packet of sazón.
Add 2 tablespoons of tomato sauce.
Add 1 tablespoon of tomato paste.
Add 1 tablespoon of sofrito or recaito.
Add 5-6 olives with a teaspoon of the vinegar from the olives.
Add 1 can of washed and drained gandules.
Stir.
Taste the water. If you feel it needs more seasoning, you can add a little of either salt or Adobo to your liking.
Cover and set the rice cooker to cook.
There will be no need to stir the rice while it cooks, though you certainly can do so once about mid-way through. Your arroz should be done in about 30 minutes or so. You will know it's done when you taste the rice and it's neither mushy nor tough.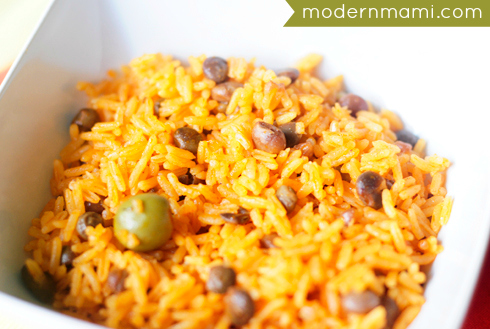 *The beauty of this recipe? You can swap out that can of gandules and make many other varieties of yellow rice.
Rice with corn (arroz con maíz): Use 1 can of drained corn instead.
Rice with beans (arroz con habichuelas): Use 1 can of washed and drained beans – any color.
Rice with vegetables (arroz con vegetales): Use 1 can of drained mixed vegetables.
Rice with chicken (arroz con pollo): Add cubed, cooked, grilled chicken. (Traditional arroz con pollo would use chicken on a bone and would cook the chicken first in the same pot before adding the rice and other ingredients. But, this will give you a decent version.)
I hope you enjoy this simple and easy arroz con gandules recipe using a rice cooker. I have found it to be much easier than cooking it in a regular pot and it tastes just the same. It allows for me to do other things (i.e., play with my daughter after work/school) without worrying about getting up every few minutes to stir and watch the rice.
Do you have a favorite shortcut for cooking rice? If you try this arroz con gandules recipe, please come back and let us know how you liked it!