This year, in order to expose my daughter to Latino heritage more in-depth, I decided to do a small Hispanic Heritage Month project with her. My idea was that it would be fun, informative, and would allow her to celebrate Hispanic Heritage Month and learn about different aspects of her Latino heritage. She has heard of Hispanic Heritage Month in past years, but it's been a more casual approach of general awareness. With her being in Kindergarten now, I thought this would take it up a level and go beyond just knowing she is half Latina.
There are many ways you can expose your children to Latino history, música Latina (Latin music), Latino food, and of course, the Spanish language. I decided to explore famous Latinos in history, the various Latin American countries, and reinforce Spanish skills. With that in mind, I knew I could find a few supplies at Walmart, since our local store carries a lot of Hispanic food products, Spanish movies, música Latina, and even Spanish books. They used to carry a lot more children's products in Spanish, as well, but seem to have cut back.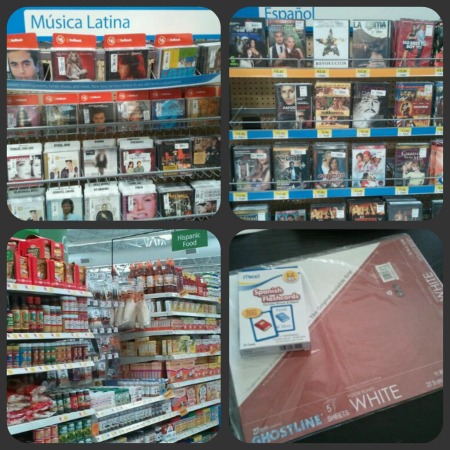 Below I share some ideas for you based on what my daughter and I did for our Latino heritage project.
Kid Activities for Celebrating Hispanic Heritage Month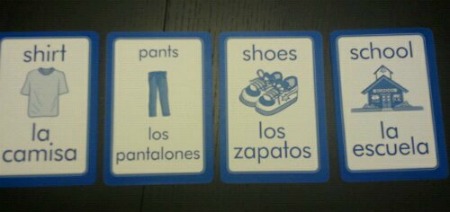 Making Up Stories with Spanish Flashcards
You can find Spanish flashcards in many places; I bought these at Walmart. They include basic Spanish vocabulary, colors, numbers, and popular phrases. Using these flashcards, my daughter and I like to randomly pick out a couple of cards and make up stories using the words/phrases on the cards. For example, using the cards in the photo above, we can say, "Ella se puso la camisa, los pantalones y los zapatos antes de ir a la escuela." (She put on her shirt, pants, and shoes before going to school.) Since making up stories is something many children love to do anyway, this is a fun game that helps with practicing Spanish words.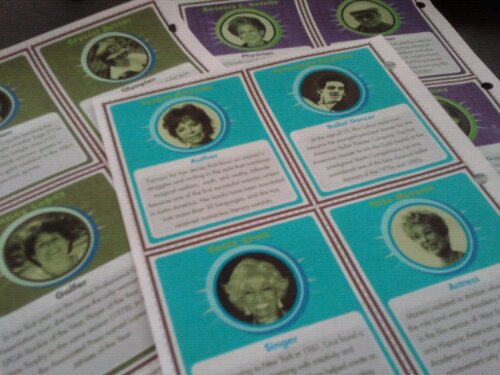 Exploring Latinos in History
Many Latinos have contributed to society in many areas, such as the arts, science, sports, politics, and entertainment. Since baby girl is only five years old and just starting Kindergarten, I didn't want to overwhelm her with information. I found some great printables on the Nick Jr. website with information on famous Latinos in the arts, science, and sports. They had a coloring page packet and "Hispanic Hero" cards highlighting notable Latinos such as Tito Puente, Dara Torres, Ellen Ochoa, Celia Cruz, Rita Moreno, and Roberto Clemente, among others.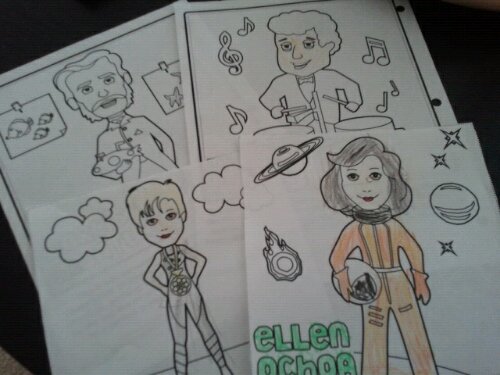 We took these printables, read the information on each person, and discussed their roles a bit. Baby girl wanted to know what each person looked like in "real life" as opposed to the drawings on the coloring pages so she could color them accurately. So, we looked each one up as well. The next day, she told her daddy and abuela all about Ellen Ochoa being the first Latina in space and said, "She's my favorite. I liked her astronaut suit."
Learning About Latin American Countries
In order to learn a bit more about the different countries that make up Latin America (actually, we sneaked Spain in, but I thought it was only fitting), baby girl and I decided to print out some flag coloring pages for her to color, cut out, and use to make posters. We picked a few countries, since doing them all would have been too much for her. As we did with the Latino historical figures, we looked up images of the flags for her to reference as she did her coloring. She was quite proud of her finished product!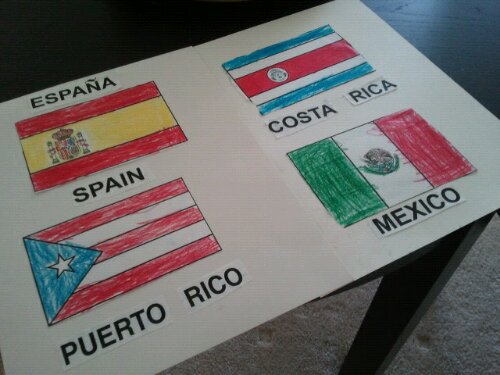 I hope these ideas get you thinking of how you can talk about Latino history with your children, this Hispanic Heritage Month, or at any point.
What other kid activities help you to bring Latino heritage and history alive in your home?
Disclosure: Though this Hispanic Heritage project was an original idea, as a member of the Walmart Moms program, I was compensated for this post.
All photos © ModernMami.com